"to forget is to be?"
Tsekh Otdelki
Opening of the exhibition on June 9 at 19.00
Center for Creative Industries "Fabrika" and Project School for teenagers "Kaskad" present exhibition "To forget is to be?"
On June 9, the Fabrika will open an exhibition of several artistic departments of the Kaskad project school for teenagers.
Program participants started working on their projects in October 2021 and finished in the spring of 2022 – two different worlds in one academic year.
At the exhibition, you can see the works of several areas of the Cascade program - "word movement image" (curators: Katya Kabalina, Viktor Tsatryan), "body and sound" (curators: Katya Kalyuzhnaya, Maxim Sergeev), "art is dead, but we still no" (curator: Irina Petrakova), "textile suit fashion" (curator: Panika Trees), "multimedia journalism" (curator: Amir Gaynutdinov), "poetry? cool" (curator: Dmitry Gerchikov).
The title of this year's graduation exhibition is "to forget is to be?". The concept from a teenage curatorial group is dedicated to understanding reality - sleep, memory and unconsciousness.
"A dream is a reflection of a separate new reality, formed on the events and experiences of the everyday world. On the one hand, dreams help to throw out accumulated emotions, on the other hand, they are a constant reminder of unresolved issues.
The participants of the "Cascade" school try to disengage from negative experiences and feelings, but hidden suppressed emotions do not disappear, they unconsciously affect our perception of the world. A large number of people cope with the lack of reflection, unconsciously putting their feelings into creative projects" (direction "curatorship").
"Cascade. Project as a method" is a project school for teenagers that embodies the concept of "third place". Here people from 13 to 18 years old, under the guidance of curators and tutors, bring their art projects to life. In 2020, Kaskad received the Innovation Award, which is the most important for the industry, and in 2021, representative offices of the program were opened in the regions - Murmansk, Apatity, Novosibirsk and Tver.
Exhibition opening program:
19:00 — opening of the exhibition
19:15-20:15 — excursions around the exhibition from the participants
19:30 (exhibition space) — Performance "Epitaph at the crossroads or yourself for you, you for yourself", "Squeaky Chair" (direction "Body and Sound", curators Katya Kalyuzhnaya and Maxim Sergeev). A performance about problems in communication between people experiencing the death of a mutual friend. Everyone understands that something needs to be said or done, but often nothing happens. Is it possible to achieve synchronization of feelings with another and maintain one's identity?
20:15-20:40 (residence) — performance, Nastya (direction "Body and Sound", curators Katya Kalyuzhnaya and Maxim Sergeev). A kinesthetic study of the body's natural responses to the sound of a voice. Being an impulse for movement, it develops from abstract sounds, noise and overflows, free from the semantic aspect, to poetry and concrete statements. Moving along to recordings of performances by famous personalities, the performer discovers how cultural experience and personal attitudes affect the bodily perception of sound and do not allow one to perceive what is heard outside the situational context.
20:40-21:00 — performance "You Can't Escape from the Noise", Katrin and Vanya Sdvizhkov (direction "Body and Sound", curators Katya Kalyuzhnaya and Maxim Sergeev)
The performer will perform actions of different emotional coloring - from everyday to extraordinary or emotional ones, and the sound designer will exaggerate the sound atmosphere that a person creates around him.
22:00-23:00 - DJ set from Kaskad
Даты работы: June 9 - July 3, 2022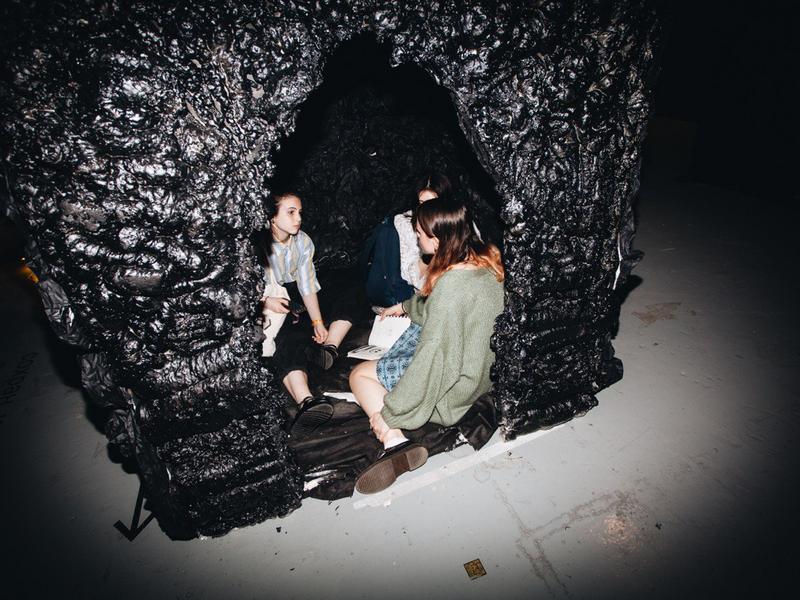 Kaskad is an alternative to the school course "Project Activities", which was recently introduced into the curriculum of high school students. The creators of the project, Sasha Kheifets and Lida Lobanova, want to give students the opportunity to go beyond the school and implement a project in the field of contemporary art in a museum, gallery or any other cultural institution in an interesting format.