Exhibition "Unit"
Arthaus
Opening of the exhibition on March 25 at 19.00
On March 25, the Center for Creative Industries "Fabrika" presents the exhibition project "Unit" by the students of the National Research University "Higher School of Economics". The tutor of the course is the artist, sculptor Haim Sokol.
The exhibition "One" is a reflection on the theme of peace, violence and the various effects it produces.
In ancient Greece, it was believed that any number is a set of units. We feel ourselves to be such a set of units, or, in modern terms, we feel ourselves to be many. Paolo Virno in The Grammar of the Sets writes: "There is no one more isolated than one who feels the overwhelming pressure of an indefinite world. In other words, the feeling, which combines fear and anxiety, concerns directly many ... Many share ... total insecurity in relation to the world. Today, our crowd is more like a choir, "forgotten on the stage, abandoned, left to its own devices. Whoever knows the laws of Greek tragedy will understand that there is no more miserable, more tearing, more devastating spectacle" (Mandelstam).
On the other hand, one is the smallest natural number. But at the same time, it is also a basic value, which is taken as the basis for measurement. We want to measure our feelings. Perhaps we acquire our subjectivity in an attempt to measure our subjectivity. What is the measure of despair or madness, indifference, cruelty? We can say that this exhibition offers a new system for measuring our feelings. It seems to us that other exhibitions are currently impossible. It will no longer be possible to live and think as before. Choosing between silence and public speaking. We choose the second. It is a gesture of resistance to fear and helplessness.
Exhibition curator: Anastasia Shabashova


Cover photo: Ulyana Volkomorova, Toy Ghost, 2022
Cover photo: Makhneva Alina, Sela, 2022
Даты работы: March 26 - April 1, 2022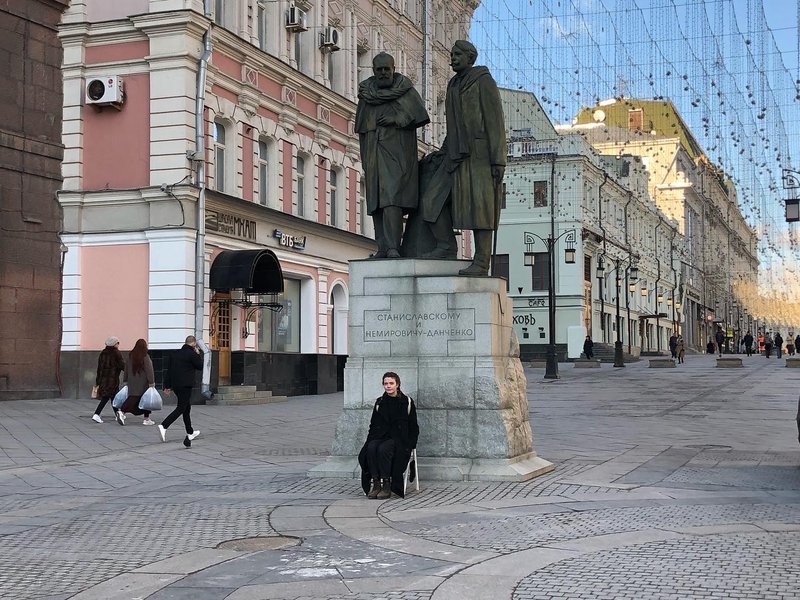 Exhibitors: Alexandra Panteleeva, Anastasia Shabashova, Erika Savina, Anna Vilenskaya, Sabina Baisarova, Alika Galimova, Uliana Volkomorova, Roman Mironov, Diana Lee, Alina Makhneva, Milana Batieva, Sophia Alekseeva, Anastasia Ambrosova, Alina Makhneva.