Unbuilt: a solo show by Yumiko Ono
Arthaus
Opening of the exhibition on August 10 at 19.00
On August 10, CCI Fabrika presents a solo show by japanese artist Yumiko Ono – Unbuilt. This exhibition presents Ono's four printed textile and three porcelain works.
Ono was inspired by the summer landscape in Moscow – roads under constructions so as buildings. Ono was particularly interested in the construction sites of buildings, covered with individually designed textiles showing how they will look like. She incorporated this idea into her currently researching theme "unrealized architectural plan" and she created ongoing series of fictive architecture "Pavilion"printed on see-through textiles. The images are made from the references she found from unrealized architectural plans while the residency in Fabrika. Together with the structure inspired by under construction sites, she shows imaginative architecture as it shows how the building inside the cover will look like. However inside of the "construction site" is empty, which is a common element with her ongoing slip cast porcelain works as well as drawings in terms of emptiness of architecture.
Ono's major mediums in recent years are drawing and slip cast porcelain, in which she focuses on the nature of the surface in both practices. In her drawing, she collects images that show the surface of various things and then fills in the drawn imaginary to create fictitious architecture that only comprises a surface. She considers that the process of casting is a kind of middle ground between 2D and 3D, since a flat surface naturally becomes three-dimensional by molding the surface. By using this method, Ono attempts to produces content that creates depth from superficial surface elements, which also expresses the fragility and fictionality of Utopia.
Along with her new textile piece, Fabrika presents three porcelain works. "Utopia" represents the ideal world with 196 different shaped yet the same weight objects by cutting the same size cube in 196 different ways and casting. The shapes as well as the idea of ideal world are inspired by socialism and its artifacts. The two other works "Pan-City 5" and "Pan-City 6" are fictive architectural works inspired by Brutalist architecture in the USA. Ono's view on Japan, as a place suspended between East and West, is reflected in the work she creates. Japan is a Westernized country economically and politically. However, with a national preference for the formal, ritual, and societal standardizations, Japan and the former eastern socialist states exhibit similarities in both societal norms as well as architecture. By using references from two different part of the world, Ono creates a fictive architecture that doesn't belong to anywhere, a universal place of peace.
The exhibition is supported by Yoshino Gypsum Art Foundation.
The artist expresses special gratitude to the State Museum of Architecture. A.V. Shchusev and the State Museum named after Konstantin and Viktor Melnikov for their help in working on the project.
Даты работы: August 11 – 28, 2022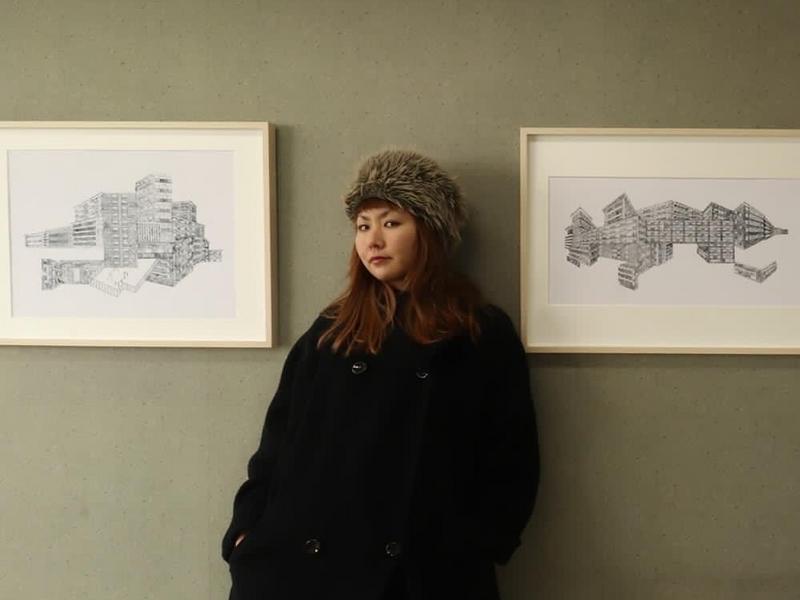 Yumiko Ono (1982) is an artist based in the US and Japan. From 2016 to 2018 she studied at the Master's program in ceramics at the Stieglitz Academy in St. Petersburg. She also completed her Master's degree in Intermedia at the Academy of Arts, Architecture and Design in Prague in 2010.