Rags: a project by Vladimir Seleznev with the participation of Nadezhda Selezneva
PIRANESI LAB
Opening of the exhibition on September 8 at 19.00
Center for Creative Industries "Fabrika" presents a one-day project by Vladimir Seleznev with the participation of Nadezhda Selezneva – Rags. The exhibition will feature twenty works of art. The project was created with a grant from the PiranesiLAB as part of the "Fabrika Studios. Session VII" (2022) program. An exhibition based on the project is planned to be presented at the Yeltsin Center in Yekaterinburg.
The idea of ​​"Rags" appeared during the first coronavirus quarantine of 2020. Then the sense of time, its length and uncertainty became more acute. It was not clear when it would all end and how long they would have to be locked up.
Artist Vladimir Seleznev about the project:
"Living in Yekaterinburg, I could not visit my mother in Nizhny Tagil. So that she would not get bored alone, I suggested that she do a joint project using household items. Probably, as in many families, in our family members' clothes, even those who are no longer alive, are stored in closets and are not thrown away for years. In my Tagil apartment, there are still chests of drawers and wardrobes - my father's trousers, scarves of my grandmother who died in the early 80s, shirts of my grandfather who died in the mid-90s, old bed linen and diapers, mother's dresses and bathrobes, children's clothes.
I suggested that my mother take these old things and sew them into textile compositions about a meter by a meter. She herself chose the cuts and shape, becoming my co-author. In a month and a half, about 20 different textile compositions were obtained.
There is an opinion that sewing together old things helps to live through repressed memories and traumas. It seems that participation in artistic work became such a therapeutic process for my mother. This is how it became for me too – on the resulting canvases I printed photographs, drawings and collages made on the basis of photographs from family albums, recalling the forgotten stories of my family.
Extremely personal and material, crumpled and beautiful, important and poor, "Rags" hang as if they were once left to dry on a rope and then, suddenly, they remembered.
Work on the project was carried out in an individual residence in the Peredelkino Creativity House.

With the participation of the Foundation for the Support of Contemporary Art "SPHERE"
Media partners of the Center for Creative Industries "Fabrika":
Даты работы: September 8, 2022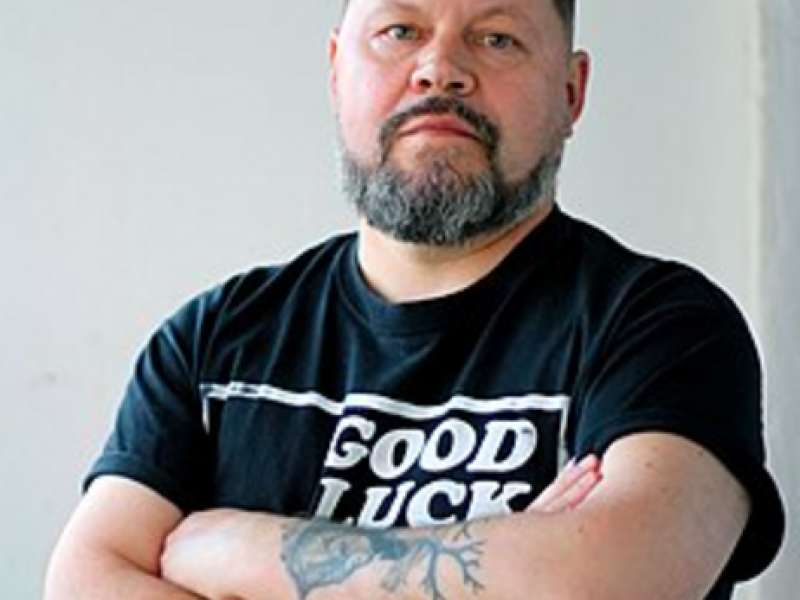 Vladimir Seleznev (b. 1973, Nizhny Tagil) is a Ural artist and curator, lives and works in Yekaterinburg. In 2002 he graduated from the graphic arts department of the Nizhny Tagil State Pedagogical Institute. In 2001–2005, he was one of the organizers and a member of the Zer Gut art group. In 2006–2018 — curator of the Ural branch of the National Center for Contemporary Art, Yekaterinburg. In 2014–2021, he was a lecturer at the Russian State Vocational Pedagogical University. Selected solo exhibitions: "Sometimes the shortest path is the longest" (Yeltsin Center Art Gallery, Yekaterinburg, 2018), "The New Mythology of Kolomna" (Art Kommunalka, Kolomna, 2020), "From Chaos" (OnSpace Gallery, Kiel, 2018), "Pornushka news" (Underdog gallery, Hamburg, 2016). Participant of the Moscow, Kvandon, Ural Industrial, Krasnoyarsk Museum Biennials. Curatorial projects: Art residency program of the 6th Ural Industrial Biennale of Contemporary Art (2021), Taming the Void. 50 years of contemporary art in the Urals" (NCCA-Ural, Yekaterinburg, 2017-2018), "Nemoskva is not far off" (Manege, St. Petersburg, 2020), special projects of the 5th and 4th Ural Industrial Biennale, XIII Krasnoyarsk Museum Biennale , IV Moscow Biennale for Young Art, parallel program of the 9th and 8th festival of urban culture "Art-Ovrag".