Hinged Man: an exhibition by Katarina Lav
Tsekh Otdelki
Opening of the exhibition on January 17 at 19:00
The Center for Creative Industries Fabrika opens a personal exhibition of Katarina Lav "Hinged Man". The project tells about a character living in the Morozov town in Tver. He is subject to cyclical habits and a state of frustration, the soul of the character reflects with the state of the place. The artist's object is autobiographical.
The exhibition will feature: video art, installation, floor/temporary/sand canvas, sculpture, photo documentation, as well as surveys of residents of the Morozov town.
The author shows an artistic statement about the uniformity of life, cowardice, dependence on ritual behavioral actions, as a way of psychological safety of the character. In the work, the artist considers the frustration environment, which is a way of protection from the world for the character.
The scars of an articulated person symbolize that his soul and body have fallen into a vital and psychological meat grinder. Sometimes spontaneous romanticism slips through a person even in conditions of tragicomic emptiness, emotional exhaustion. Hope is given by the beauty that the articulated person will be able to contemplate. What is important is the desire to see the aesthetics in what surrounds, to feel the inner desire to find a way out, to make a choice towards the portal of frustration. As a symbol of the exit, it is the transition from darkness into light.
The focus of attention is the character's behavior, which is expressed in the behavioral habits of a common Russian everyday life. The frustrator is the environment and the environment of his inner world, which are similar to each other, they dictate the choice of cyclicality every day. Character and place are not a random choice of the artist, they are closely related and related to each other.
What should become history is still a microcosm in which a certain type of people continue to live, unable to cope with frustration, like a character. An attempt to integrate the character into the Morozov barracks is an opportunity to consider the similarity of the atmosphere of the buildings themselves and the states of the articulated person.
Даты работы: January 18 – February 19, 2023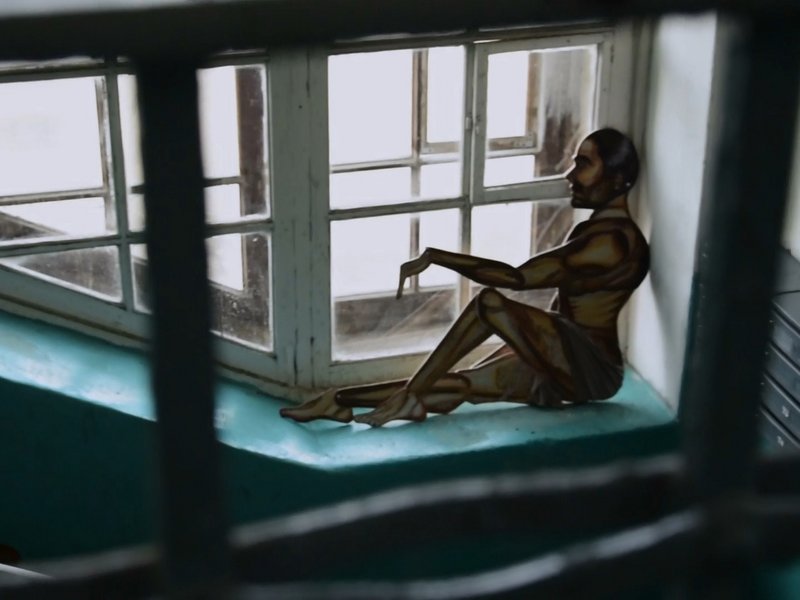 Katarina Lav is an artist, a representative of the Tver post underground. Lives and creates in a dystopian environment. The main medium is temporary, floor, sand canvases. Working with sand has its roots in the performative practice of creating animation with bulk materials, which the artist has been doing for more than five years. The theme of art is the study of human essence, the soul and its searches, vices, experiences, mistakes in the conditions of dystopia, by the method of comprehending oneself and society. The artist chose the human soul as the center of her art. Subsequently, the works embody themselves as allegories, metaphors, conceptual grotesque, some messages.