Unreal real. (Borders)
Tsekh Otdelki
Opening of the exhibition on October 8 at 19:00
The Center for Creative Industries "Fabrika" will open the exhibition "Unreal real. (Borders)". It is an exposition of works by students of the Faculty of Contemporary Art of the Higher School "Learning Environment".
About the exhibition:
We are constantly within some kind of framework: from personal borders to the territory of the country outlined on the map. Humanity recently faced such a phenomenon as a pandemic - during this forced and incomprehensible temporary pause, new invisible barriers were erected that did not allow a person to move freely in reality.
Mankind has felt the full measure of the restriction of freedom of movement in space. Physically, these boundaries did not exist (that is, they were unreal), but at the same time they worked (that is, they were real).
The works of the featured artists were made during this strange period as part of the Faculty of Contemporary Art's Learning Environments programs.
The artists explore interaction with limited space, for example, through personal everyday experience, and also explore the relationship of man to internal and world changes.
The exhibition of works made in the context of the changes experienced by mankind takes place during new historical events, which also have boundaries - temporal (which we still cannot identify) and spatial (inside the body, institutions, state).
In part, our behavior is influenced by the framework in which we find ourselves. But do they affect vision, worldview? After all, the inner experiences of a person cannot be limited by external thresholds that cannot be physically crossed.
Artists: Sonya Bondareva, Anton Nauman, Violetta Grishina, Maria Dunaeva, Andrey Kryuk, Evgeny Lesyev-Les, Alena Sevastyanova, Tara Tarabtseva, Anastasia Tupikova, Olga Shershneva, Elena Sholokhova, Nikita RA, Kristen Ramluck.
Exhibition curator: Alena Selina
Даты работы: October 9 – 29, 2022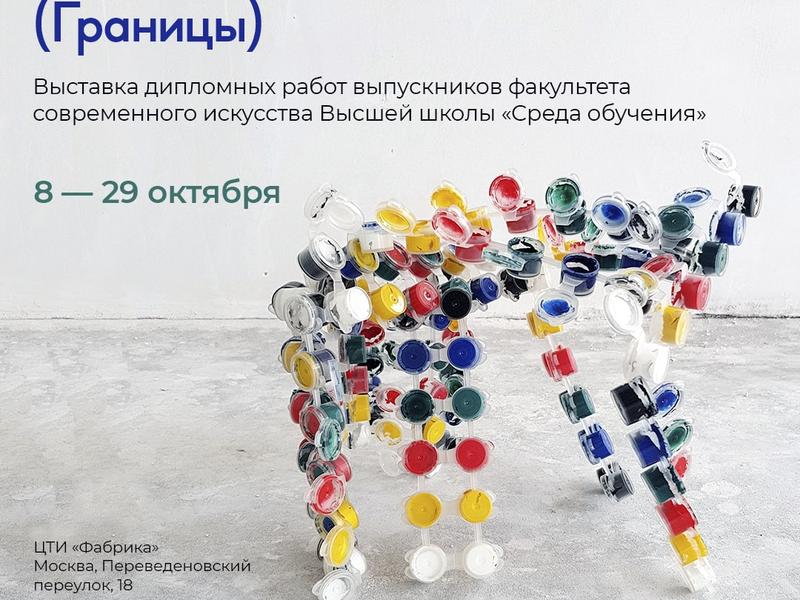 Sreda Obucheniya is an online school with additional professional and higher education programs, as well as workshops and courses in psychology, design and interior design, work in the film industry, contemporary art and photography. Specializing in distance education since 2003.