"The Code of Silence": The first exhibition-winner of the international competition apexart in Russia
Olivie
Opening of the exhibition on July 17 at 19.00

There will be two performances at the opening:
Sonya Kazovsky, "Scene 5 - Playback". Improvised collective reading of an excerpt from the play "Battle of the Dead and Non-Existent Souls" with the participation of Natalia Fenkina and the audience of the exhibition
Natalya Nikulenkova, Captured Bodies. Performance based on personal stories and diaries of juvenile detainees
Curators – Creative association of curators TOK
The exhibition is attended by Petra Bauer and Rebecca Katz Thor, Sarah Brown, Olesya Bessmeltseva and Philip Fenghaus, Masha Godovannaya, Nika Dubrovskaya and The Yes Women, Polina Zaslavskaya, Sonya Kazovsky, Alevtina Kakhidze, Ofri Lapid, Natalia Nikulenkova
"The Code of Silence" is an exhibition about how legislative and social norms regarding women are created and changed depending on the political agenda and ideology. The participants analyze the background and consequences of the conservative turn and the strengthening of patriarchal systems in many contemporary societies. Immersing viewers in various historical and geographical contexts, the exhibition presents existing and possible strategies for the struggle for social justice and rights - political, economic and reproductive.
In the past few years, we have seen a number of initiatives aimed at restricting women's rights and throwing us back in time: the decriminalization of domestic violence in Russia, Turkey's withdrawal from the Istanbul Convention, new laws to ban and punish abortion in the US and Poland. In addition to reproductive, the violation of the economic rights of women, who in most countries still earn less than men, also demonstrates how governments systematically deprive women of agency and protection.
The "Code of Silence" exhibition is dedicated to issues of gender equality in the family, at the legislative level and in professional areas, in particular in the field of art. Curators seek to draw attention to the historical achievements of women in the struggle to secure their rights at the legislative level. The works of participants and participants of the exhibition from Russia, Germany, Ireland, Sweden, Ukraine, the Netherlands and Israel reveal state and corporate mechanisms of biopolitics that regulate women's rights and their reproductive decisions. The exhibition examines the processes of constructing social, gender, sexual norms and deviations in different countries, and also analyzes the influence of feminist strategies and practices of different years on the formation of the women's movement. Viewers will also be invited to participate in the process of subverting the established narratives of art history and bringing back forgotten names of artists.
apexart is a New York City-based non-profit arts organization founded in 1994 that challenges ideas about culture and the arts by hosting annual international exhibitions and open competitions, with more than 2,000 entries and jurors annually from over 65 countries. One of the four winners of the open competition 2020-2021, in which more than four hundred projects took part, was the exhibition of the Creative Association of TOK Curators "Code of Silence". This is the first exhibition of the apexart competition in Russia.

Photos by Tanya Sushenkova
Даты работы: July 18 - September 17, 2021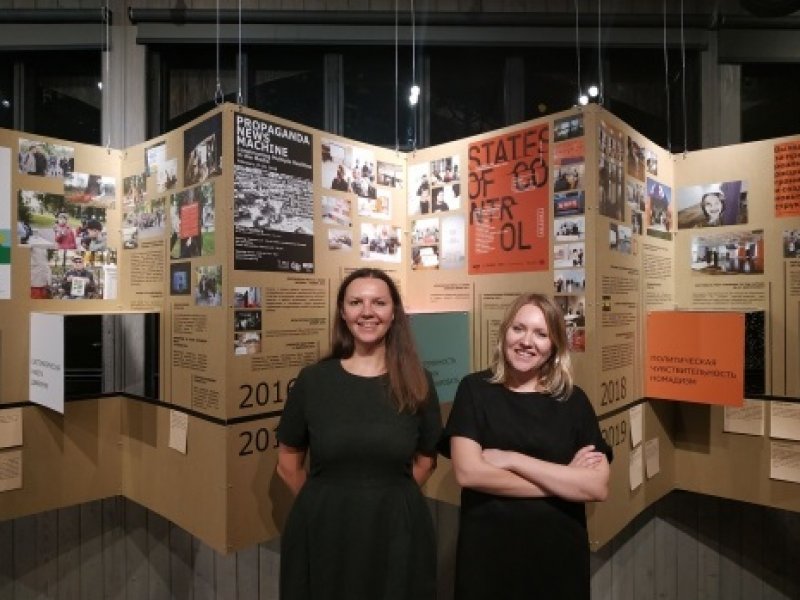 The Creative Association of Curators TOK is the first officially registered curatorial association in Russia, created in St. Petersburg by Anna Bitkina and Maria Veits in 2010 as a platform for research projects at the intersection of contemporary art and social sciences. As a nomadic collective, the curators of the TOK place their practice between historical analysis and political imagination and consider the causes and consequences of changing political and social reality. Unification projects often focus on the study of elements of the post-Soviet in various social spheres, as well as the impact of global capitalism on local processes. TOK curated exhibitions and projects in Russia, Ukraine, Finland, Sweden, the Netherlands, Israel and the USA. The team is the owner of the All-Russian Award "Innovation" - 2020 for the project 1 Curatorial Forum (together with the team of the NCCA St. Petersburg). In 2021, TOK has been appointed curator of the main exhibition of the Tallinn Photo Month Biennale, which will open on September 3