Installation "gimns_alfa_compress_rnd_2_11"
Tsekh Otdelki
Opening of the exhibition on May 26 at 19.00
In the multi-channel installation "gimns_alfa_compress_rnd_2_11", the work of the artist Mikhail Marushkin, which is a wall of sound crashing down on the viewer, turns out to be a complex composition in which the anthems of different countries merge into a single narrative. Hymns as musical works reflecting the state idea, and after that, one of the most important tools of the propaganda apparatus turns into a microtonal musical work, and the only object of the installation is a TV, echoing the sound, it reproduces only unstable white noise.
In this work, the artist seeks to show his anxiety in connection with the increasing day by day level of information noise and the feeling of being unable to perceive the continuous flow of news that deafens us every day in waves. Today, many are experiencing not only this inability to analyze different information, but even the inability to track it. The wall of sound and white noise on the TV screen, changing in amplitude as the tempo and volume increase, become a metaphor for our anxiety from the overwhelming abundance of news.
Exhibition opening hours: Tuesday - Sunday, 16:00 - 20:00
Даты работы: May 27 - June 2, 2022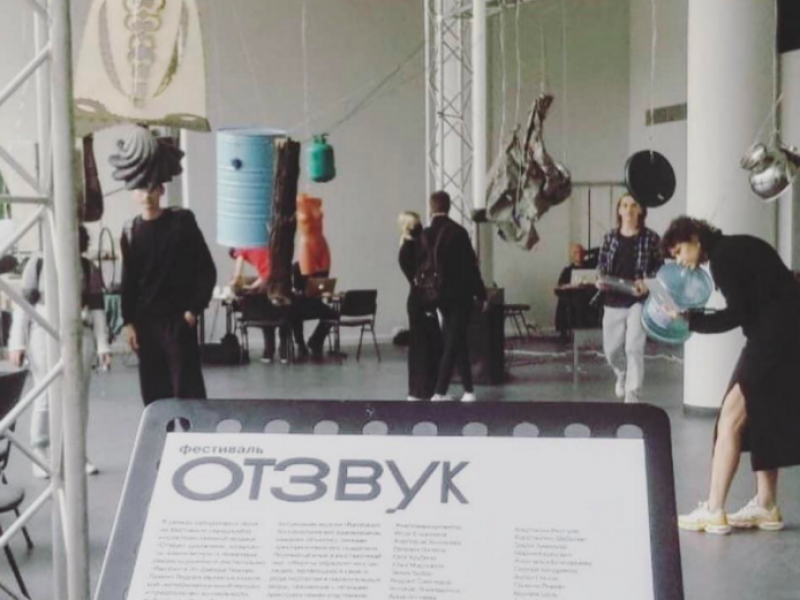 Mikhail Marushkin (b. 1986) is a Moscow-based media artist, sound artist and musician. In 2007 he graduated from the Moscow Technological College No14. Faculty of advertising video specialization. In the same year, together with Vladimir Lupandin, he founded the experimental group "Steam Man". In 2007 - 2008 participated in the seminars of Anatoly Osmolovsky. Since 2015 he has been making an electronic project "Stendec nn" with Vladimir Lupandin. Since 2018, he has been working as a sound engineer at Moscow cultural venues. Regularly participated in exhibitions of "Electromuseum". In 2019, he collaborated with graduates of the Boris Yukhananov Individual Directing Workshop as a sound designer and sound engineer.