Blackie's Autograph: opening of the exhibition by Ulyana Podkorytova
Arthaus
Opening of the exhibition on September 8 at 19:00

Center for Creative Industries "Fabrika" presents a personal exhibition of the artist Ulyana Podkorytova "Blackie's Autograph". In 2020, Ulyana became the winner of the program "Fabrika Studios. Session VII" and received a studio to work on the project. At the Blackie's Autograph exhibition, Ulyana will show the audience how dolphinologists' expeditions pass through a military diascope, and will also present a teaser of a future film about the Karadag Serpent.
Uliana Podkorytova about Blackie's Autograph project:
The writer and underwater explorer Anatoly Tavrichesky has been studying evidence of the existence of the Black Sea cryptid, popularly called the Karadag Serpent, for many years. Tauride even gave a nickname to the mysterious creature, the hydronaut calls him Blackie. In 2020, I filmed a short conversation with Anatoly and at the same time recorded the workflow of dolphinologist Alexander Agafonov, who works at the Karadag scientific station named after T. I. Vyazemsky. Alexander examines the sound signaling of bottlenose dolphins, their sea whistles are autographs and does not believe in cryptids.
The interviews of two enthusiastic antagonists inspired me to create a performance about the Serpent. At the bottom of Lake Barakol, not far from the extinct volcano, near which Anatoly and Alexander are working, I blew a sculpture of a probably non-existent monster with wind currents. This act is quite simple: I wanted to show that the political feuds between Russia and Ukraine, due to which a rich natural territory is being drained, are becoming monstrous, and nature is suffering.
The teaser for the upcoming Blackie film was shown for the first time at the Nova Art exhibition New Skin – Myth of the Technological Body in the summer of 2021, and next year I plan to shoot a full-length version of the project.
In the exposition at the Factory, I invite the viewer to follow the expedition of dolphinologists through a military diascope, examine the inanimate skin of Blackie, study the storyboards of the movie and watch the video with selective interviews of the heroes.
Entrance to the vernissage is free
Exhibition hours: Tuesday - Sunday from 12:00 to 20:00
Address: Perevedenovsky lane, 18, building 2, floor 1 (Hall "Arthaus")
Даты работы: September 9 - October 3, 2021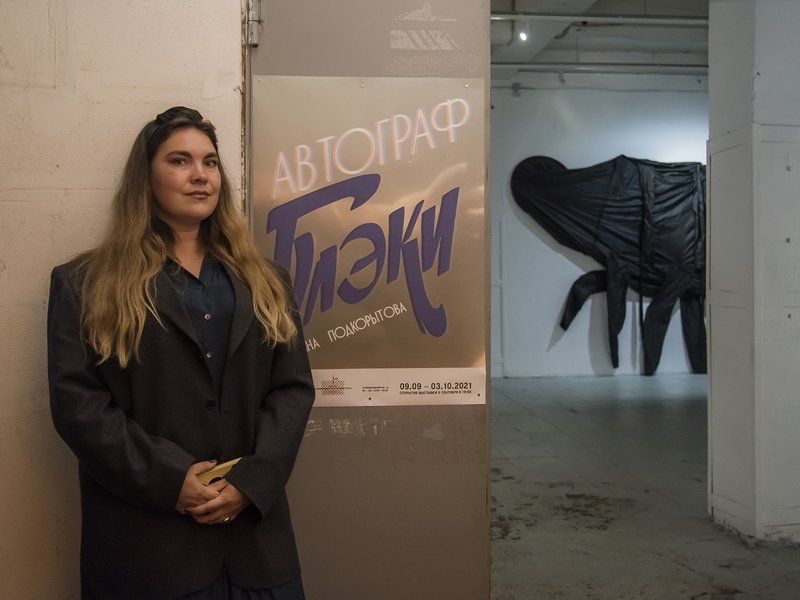 Ulyana Podkorytova is one of the brightest representatives of the contemporary Russian art scene, a graduate of the Rodchenko School (Videoart workshop of Kirill Preobrazhensky). The artist works with internal mythology, the history of the ethnography of the Russian North and post-folklore (Internet memes, spam, fake news from Internet portals and social networks). She is concerned about the problem of identity preservation in the era of globalization.