Andrey Kuzkin "- What is it? - Something Temporary"
Olivie
Opening of the exhibition on November 12 at 19.00
The first part of the exhibition is interactive - it is created by the audience. As part of the exhibition, the artist invites everyone to participate in a performative action and write the text on the prepared A4 sheets: "I am still alive (a). Name, Surname, number, signature. The "Receipt" will immediately be framed and hung on the wall, thus becoming part of the exposition.
The second part of the exhibition will feature photo and video documentation of Andrey Kuzkin's artistic actions. These are the artist's personal poetic statements related to the opening of VREMYANKA.
The use of the phrase "I'm still alive" in art is not new. In the 70s, the Japanese conceptual artist On Kawara sent telegrams to his friends with the phrase "I'm still alive", and the Chinese artist Teichin Xie from 1986 to 2000 implemented a "thirteen-year plan", the result of which was the image with the phrases - "I saved my life. I survived December 31, 1999."
In his project, Andrei Kuzkin sees a way out in delegating the statement and in asserting that it makes no difference whether you are an artist or not. The value of the artist and his art fades before such things as life and death. A handwritten document, compiled by a person with his own hand, carries a piece of his life. The handwritten phrase "I am still alive (a)" with the date and signature, to some extent gives life to this sheet of paper, and that while the document itself is "alive", the evidence is also alive, and through it the life of that who wrote it.
Exhibition project "- WHAT IS IT? - TIME" refers to the performance of the artist in 2013 in the Triumph Gallery, where the performance "The Main Question" was shown to the public. The artist carved the question "WHAT IS THIS?" on his chest with a medical scalpel. After 8 years, Andrey seems to have found the answer to his question - this answer: "TIME". Both the question and the answer are absolutely universal and can be applied to anything in our world.


Photo by Tanya Sushenkova
Даты работы: November 13 - 28, 2022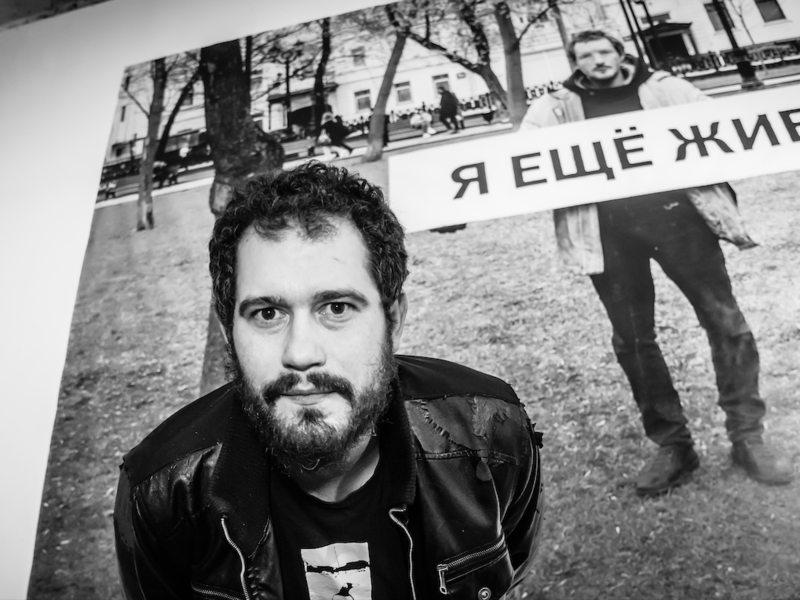 Andrey Kuzkin is an artist, performer, actionist, sculptor. Laureate of the Innovation Prize and the Kandinsky Prize. Participant of the Berlin Biennale, Biennale Performa 11, Moscow Biennale of Contemporary Art. The works are in the collections of the National Center for Art and Culture of Georges Pompidou, the Tretyakov Gallery, the Moscow Museum of Modern Art, the NCCA.